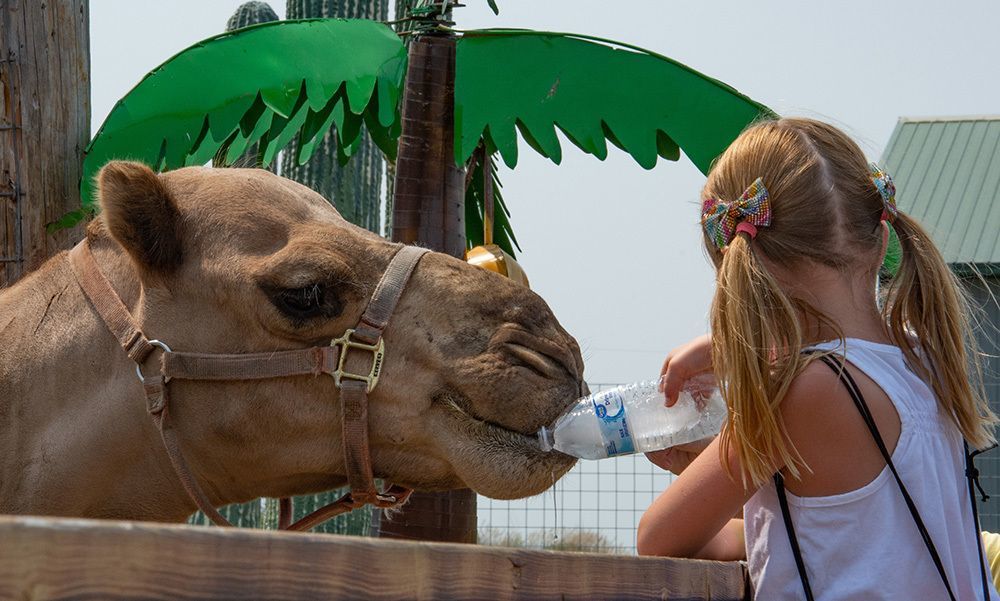 Fred's Flying Circus (504 E. 4th St.) On the south side of east 4th street and about 25 feet up, you'll see a man driving a hot dog car, an ogre and a witch sharing a cab, and other whimsical vehicles and characters atop tall poles. The art display is over the yard of a body shop and is the work of the late Fred Schritt.
Wave Pizza Company / Bonzai Beach Club (107 N. Walnut St.) From a shark head protruding from the front of the building to a 1971 Volkswagen bus in the restaurant, this place screams beach shack.
Barn Boy Antiques (125 W. 4th St.) Flying pigs and a giant raptor head greet you above the entry to this unique spot filled with quirky metal creations. From parts of cars to metal palm trees and everything in between, it's a gathering place for metal art and art to be.
Pete's Safari (2070 S. Engleman Rd.) You can't miss the photo opportunity with a dinosaur, but what draws you to this petting zoo is the variety of exotic animals rescued and rehabilitated that now call Grand Island home.
Wings Across the Heartland This is an interactive display of wings painted on buildings around Grand Island. 29 photo ops await where you can take your picture with a set of wings, including wings composed of gears, or a pair of chicken wings at a local restaurant. 
Cairo, NE Just 13 minutes west of Grand Island, sits a community named after places in Egypt. However, something may have been lost in the translation. Cairo (Ky-ro), is now pronounced differently – Care-Oh. Street names are also reminiscent of Egypt, but many with a different pronunciation. Just ask the camel that watches over the community. 
Sweet Shoppe (605 Howard Ave., St. Paul, Nebraska) 20 minutes north of Grand Island is the sweetest place on earth. You can't eat out of any of the more than 1,500 unique cookie jars on display, however you can buy delicious cookies and other sweet treats in addition to a good meal.