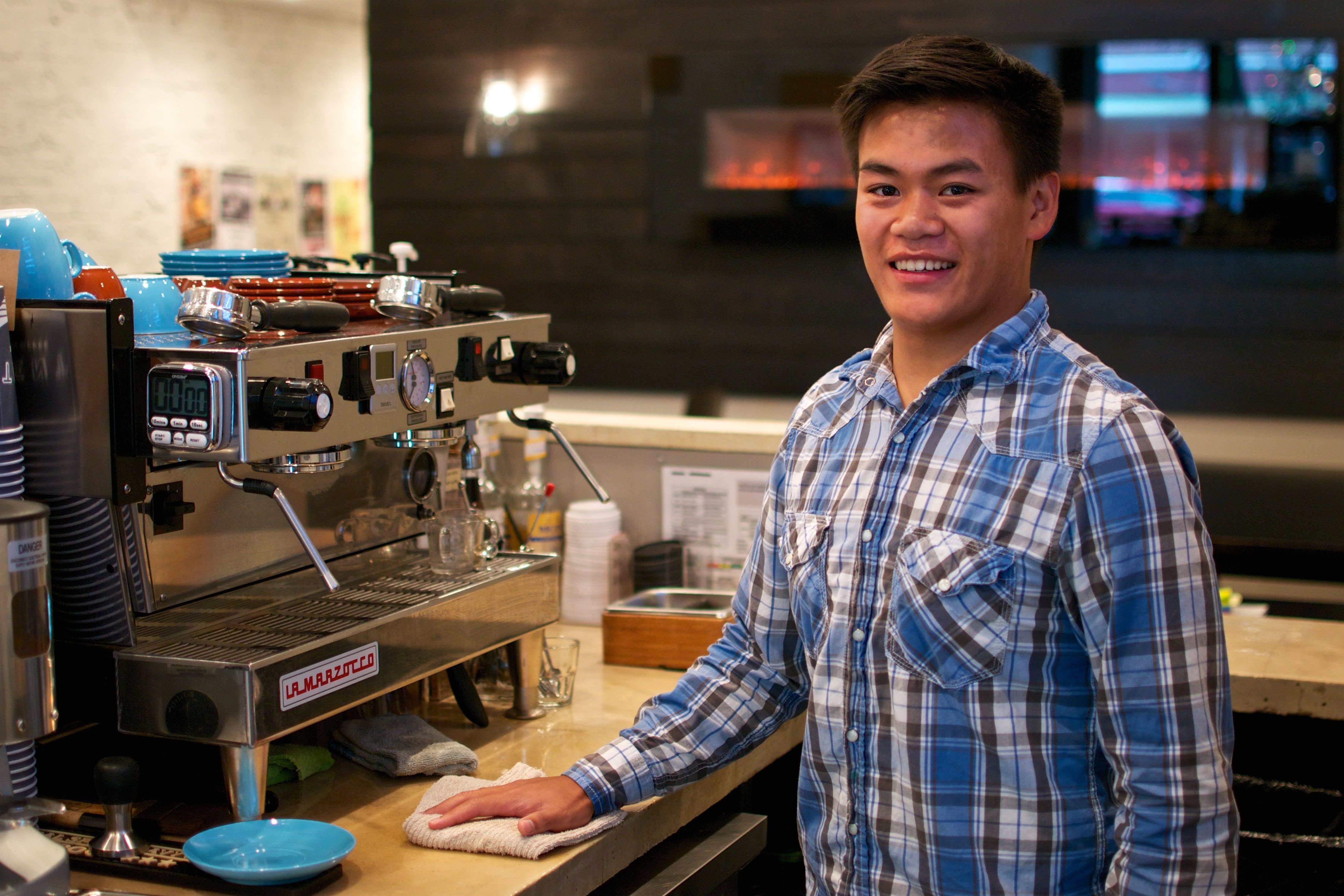 Zabuni Specialty Coffee
220 N Walnut St, Grand Island
Zabuni Specialty Coffee is owned by Kenyan native Laban. Zabuni's mission as a distributor of unroasted Kenyan and Ethiopian coffee beans is to take fair trade to the next level. 80% of GPP goes back to the coffee farmers in Africa. Visit their offices in Railside to purchase roasted coffee beans or canned cold brew. Purchase their brewed coffee locally at The Chocolate Bar or Story Coffeehouse, or in Prairie Pride Brewing Company's Wagon Trail Stout. 
The Chocolate Bar (pictured)
116 W 3rd St, Grand Island
The Chocolate Bar is an upscale Railside destination serving Intelligentsia coffees, as well as locally roasted Zabuni coffee. It's also one of the best places in Grand Island to get breakfast, and serves a light lunch as well. Two large meeting rooms are available for wedding receptions, birthday parties, or graduation celebrations.
Barista's Coffeehouse
940 N Webb Rd, Grand Island
This caffeinated gem is situated along Merchandise Mile on the west side of Grand Island. There's almost always a line for the drive-through service at Barista's, where they serve an espresso blend from Normal Roasting Company in the Nebraska Sandhills.
Blue Rock Coffee Company
602 6th St, Suite B, Doniphan
The owner of Blue Rock Coffee attended a local culinary school and prides herself on serving the best possible coffee and food. Blue Rock, in Doniphan, will go out of their way to make sure your experience at their shop is top notch. Coffee beans are sourced from a roaster in Des Moines, Iowa, and pastries are made from scratch.
Medina Street Vault
223 S High St, Cairo
The Medina Street Vault is named after one of the three buildings it occupies along Cairo's Main Street. This family-owned business grew exponentially after opening four years ago. They took great care in choosing their coffee beans, coming from a roaster in Lincoln – Nebraska's capital city. The pastries are all homemade, and the Vault serves great wraps and sandwiches for lunch in their comfortable space.
Story Coffeehouse
4100 W 13th St, Grand Island
Located in Third City Christian Church, the owner of this coffee shop loves the story behind the coffee beans he uses to brew up meticulously designed drinks. He prides himself on a perfectly proportioned mocha using locally roasted beans, but the most popular drink might be The Promised Land, a frothy, shaken, iced beverage of espresso, oat milk, and honey.
La Milagrosa
102 W 4th St, Grand Island
Taste the island life at this little Cuban shop. Order Cuban coffee to go with a breakfast pastry or as an afternoon pick-me-up.