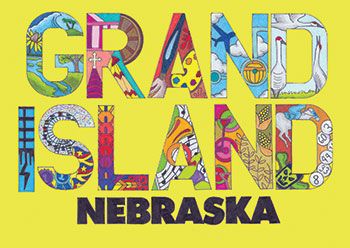 Post offices are closing, and the way we communicate continually trends toward digital media. In spite of this, the Grand Island Convention & Visitors Bureau is expanding their postcard program.
The Grand Island Convention & Visitors Bureau's postcard program has been around for more than a decade in some form or fashion. However, when a new display was built four years ago and debuted at the Nebraska State Fair, the program grew exponentially.
To many people, it may seem counterintuitive to put so much effort into a form of media many consider archaic. However, the non-digital, tactile nature of a postcard is also what makes the program stand out amidst the barrage of images people are subjected to in the era of smart phones, smart watches, augmented reality. It's rare to get personal mail in 2018, making it all the more noteworthy when we do receive handwritten cards and letters.
The number of postcards the visitors bureau has mailed for fairgoers each of the last three years averages more than 1,500. Of those, more than half are representative of the Nebraska State Fair itself. The postcard showing off the Ferris wheel is far and away the most popular, but the card featuring Raising Nebraska was popular as well. At the 2017 state fair, we nearly ran out of a new postcard featuring the mutton busting event.
In addition to the 1,600+ postcards we mailed from the state fair in 2017, hundreds of others are taken home and mailed after people have looked up an address or simply kept as souvenirs. The annual spring migration of the Sandhill Cranes is another event during which we mail out significant numbers of cards, and the visitors bureau makes the program available to large conferences that come to our city.