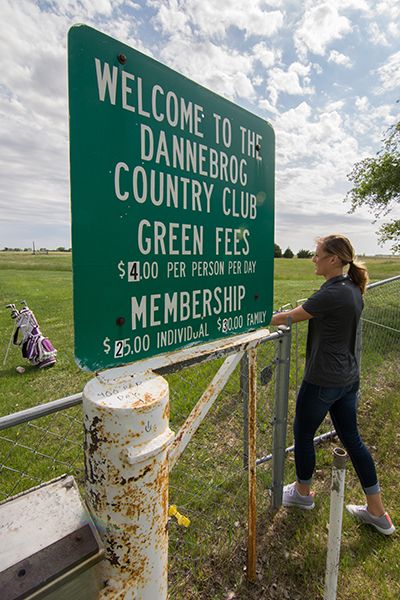 Surrounded by trees in the Middle Loup River Valley is a small town called Dannebrog. Despite claiming only a few hundred residents, it offers particularly flavorful Thursdays.
Thursday, after lunch: Driving in to Dannebrog on Highway 58 from Grand Island, you'll pass the Dannebrog Country Club. This nine-hole prairie golf course offers a few unusual challenges such as sand greens – one of which is surrounded by the lower few feet of an old grain bin. The daily green fee will set you back $4.
Thursday, after 4pm: After a round of golf in the pasture, continue heading west on Highway 58 into town. Just after crossing the Middle Loup River you'll enter town. Turn left at the flagpole before the highway veers north, and park downtown.
This part of Nebraska around the Middle Loup River was formerly Pawnee Indian land – some of which was recently deeded back to the tribe by folk personality Roger Welsch, a Dannebrog resident. The Pawnee Art Center features arts and crafts by members of the Pawnee tribe living around the United States, from paintings to jewelry to instruments.
Thursday, after 5pm: After shopping at the Pawnee Art Center, walk half a block south to the Danish Bakery for some of the best pizza you've ever had. Owner Tom Schroeder only bakes pizzas on Thursday, and orders are often placed ahead of time. The day this photograph was taken, the bakery had received a late order of 20 pizzas for a middle school located 45 minutes to the east. It's not unusual for patrons to drive two hours for Schroeder's very deep dish pizzas (a large meat weighs five pounds).
It's a very small dining room, so get there early if you're not taking your pizza to the park or neighboring tavern. If orders slow down, Schroeder will sit down and play his guitar for his patrons.
Thursday, after pizza: When you're as full as you can imagine with the Danish baker's sauerkraut pizza – it's reported that if you order "One Like Marv Has" your pizza will come with ham, pineapple, onion, sauerkraut and jalapenos – you'll need to encourage a higher rate of metabolism to keep from nodding off at your table.
Dannebrog's walking trail through the Hannibal Woods offers three leisurely and rural miles of metabolic encouragement to keep you awake on your drive home.
Interview with Dannebrog native Sonya Poland:
How often did your dad take you to golf at the Dannebrog Country Club? 
We didn't go golfing very often. My dad was a farmer and there were always things to do on the farm. He and my mom played on a league for a short period of time and we would usually go with them. There were also Sunday afternoons I recall going out with him when he would play as well. 
What makes golfing at the Dannebrog Country Club a unique experience? 
The Dannebrog course is a unique experience. Tee times are not required. The honor system is still used and you place your green fee in the box at the gate. Not many places will you experience sand greens, a bull pen (a cut out section of a grain bin) around one of your greens, and cattle grazing on the course.* I recall golfers from all over visiting in the summer for the Bull Pen Open. It was always fun watching golfers make their shot into the Bull Pen, and the frustrations of a few others. There usually was a bet or two on how many shots it would take a golfer to make it into the renowned Bull Pen. 
How is putting on a sand green different than on a manicured grass green?
Putting on a sand green is a lot different than a grass green. First, it is a lot slower. It may take a person a few holes to figure out how hard one must hit the ball playing on this unique putting surface. Second, one has to smooth a path to play their ball once they've made it onto the green and then rake the green once you're finished so it's ready for the next person. 
A lot of golfers may balk at the idea of such a low maintenance course. What would you say to convince them it's worth the trip? 
The Dannebrog Country Club has challenges many golfers have never have experienced before. It is worth the short drive to try something different!
*Sadly, the new owner no longer grazes cattle on the course.