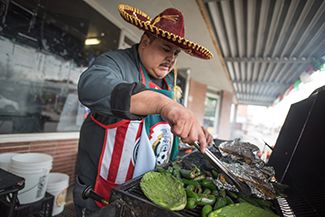 by Christopher Rosacker, Grand Island Expatriate Emeritus
As a repatriated Grand Island native with a few years back under my belt, it isn't uncommon to find myself playing host to guests. Whether it is to non-native visitors or welcoming back Grand Island's sons and daughters who return to visit their families or friends, both groups tend to give skeptical squints when I attest that Grand Island really has something to offer out-of-towners.
A quick web search will yield some big-banner offerings to which anyone can take guests, such as Fonner Park during horse-racing season, shopping along Merchandise Mile, the Heartland Public Shooting Park, or the State Fair at the end of every summer. But I find that some of the stupendous times are less about me playing the role of landmark tour guide and more about using visitors as an excuse to take advantage of some of the everyday perks Grand Island has to offer.
Many of my hosting days are concentrated in the summer, so if you are in town sometime between June and August, here a few stops you might consider:
Friday: Afternoon
I live within walking distance of Grand Island's vibrant historic downtown Railside district, so I often start by walking my guests on a stroll in that direction. Rest assured, drivers: I have yet to find a time to visit Railside that necessitates more than a block or two walk from any parking spot to my destination. A walk can be the first chance visitors have to see the revitalization of historic buildings that had once fallen into neglect and were relegated to housing some unremarkable businesses. Vibrant glass, restored brick and the exposure of century-old beams have breathed life into storefronts for trendy businesses, contemporary offices and even apartments that have that fashionable historic-meets-modern look frequently found on modern home-building reality shows.
With warm weather and an early enough start, I'm steering my guests toward a happy hour at one of Railside's many outdoor seating spots. Attached to Prairie Pride Brewing Co.'s industrial-themed tasting room is a great south-facing deck on which to soak up some warm summer rays and sip one of their hometown-brewed frosty beverages. But if you are looking for respite from the summer sun, simply head across the street to Kinkaider Brewing Company's Grand Island restaurant, or J. Alfred Prufrock's for a cocktail or martini, as both have north-facing sidewalk patios that hunker into afternoon shade. And if you are lucky, you may catch a street festival or concert of some kind between Prairie Pride and Kinkaider, an area that has become an epicenter for Railside activity.
Friday: Dinner
After happy hour, I usually take my guests to dinner at one of Railside's many restaurants, such as Wave Pizza, Sin City Grill, McKinney's Irish Pub, Kinkaider Brewing Co., or the Chicken Coop. All have outdoor eating in some capacity or another. While most of those restaurants have great desserts of their own, I enjoy steering guests toward an after-dinner pit stop at The Chocolate Bar for a cupcake or slice of cake before making our way to the free Hear Grand Island summer concert series in Railside Plaza.
Friday: After Dinner
Hear Grand Island offers a weekly lineup of grassroots Nebraska musicians from all over the state. This is a phenomenal series of events where attendees of all shapes and sizes – from families and their young children to young single adults and retirees – come to enjoy live music in one of the city's most vibrant public spaces. There are always a few vendors too, if you need a snack or a drink. Whenever I take an out-of-towner to the concerts, I'm sure to see a shocked face from someone who is trying to reconcile their preconception of what they thought Grand Island had to offer with what they are seeing with their own eyes.
Friday: Night Cap
After listening to some live music, if we aren't ready to call it a night and we don't have kiddos with us, we will hit up Infuse Mixology Bar & Bistro, Ruff's bar or one of the spots we missed during happy hour or dinner for a nightcap. But we don't want to stay out too late, because we have big plans for tomorrow.
Saturday: Breakfast
It's going to be a day jammed full of activity, so it is crucial to lay a strong foundation. I like to take my guests to one of Grand Island's many diners, whether it is the Farmer's Daughter Cafe, Tommy's Restaurant, Lee's Family Restaurant or Pam's Pub & Grub, where I advise a thick layer of hash browns, bacon and eggs, with a big cup (or three) of coffee. I also won't begrudge any who order pancakes too, because we will have plenty of physical activity to make up for using extra syrup.
Saturday: Mid-Morning
After breakfast we're either going for a walk or a bike ride. If any city in the United States is ripe for pedestrians it is Grand Island with its flat, wide streets and sidewalks. I would advise getting your hands on enough bikes to make the trek south to Stuhr Museum on Grand Island's bike paths. We like to start at Suck's Lake, which is a charming 2-3 mile route that takes us past Central Community College's campus. If you don't want to bike, you can drive there, too. Bring snacks along, because I've certainly lost track of time watching the blacksmith, touring the buildings of movie-set-like Railroad Town (a recreated pioneer village) or walking around its ponds and gardens. If you don't bring a snack, worry not because the Silver Dollar Café has light lunches, snacks and, best of all on a warm day: ice cream.
Saturday: Lunch
Now that the bike ride or walk has burnt off breakfast and created an appetite for lunch, I like to show off Grand Island's stupendous cultural offerings by getting some Latin American cuisine at either Azteca Market, Sanchez Plaza, La Mexicana or Tacos Las Palmas, the latter of which is conveniently located along the bike path at the cusp of Pier Park, one of Grand Island's better parks. There are worse ways to unwind after a summer morning of activity than grabbing some soft shell tacos and watching the skate boarders, letting the kids play on the playground or just watching the ducks and geese in Pier Park's lake.
Saturday: After Lunch
Two meals down with time to kill before the third, and at this point everyone is going to be looking for something leisurely (if not a nap). If my guests are up for it, I have a few disc golf discs and will take them to one of Grand Island's courses at Stolley Park or L.E. Ray Park, the latter of which has a course that wraps around a lake. For a bonus, L.E. Ray Park also has a dog park contained on a peninsula that jets out into the lake and thereby makes the entire park unofficially dog friendly. It is not uncommon to find Frisbee golfers with unleashed dogs following diligently behind. If you don't already own disc golf discs, head over to Play It Again Sports or Dick's Sporting Goods; they are worth the one-time investment for an otherwise free activity.
Saturday: Mid-Afternoon
By this time there is a decent chance my guests may be looking to cool off. Grand Island has a spectrum of swimming options to consider, from the mayhem of Island Oasis Water Park to a more hidden public pool such as the one at Lincoln Park. However, if my guests are looking for something more natural there are lots of lakes around, too. If you don't know someone with access to a private lake, then Mormon Island has public swimming at its lake. No matter how it is accomplished, you really can't go wrong by cooling off in water on a hot day, and it is a great way to build up an appetite for dinner.
Saturday: Dinner
For Saturday evening dining, we could return to Railside and hit one of the places we didn't visit the night before and take advantage of the outdoor seating. However, if everyone is in the mood to venture out to other parts of town, I would recommend getting sushi at Wasabi Bistro or Italian at Napoli's along Merchandise Mile. Another option is to try the new Tommy Gunz Bistro on South Locust Street, which also has outdoor seating.
Saturday: After Dinner
To cap the night off, I'd throw everyone into the car for one last destination. One nice thing about summer is the duration of sunlight, so there is plenty of time after dinner to make your way somewhere special to watch one of Nebraska's famous big-sky sunsets. Great places to catch these brilliant orange and pink hues include Gjerloff Prairie, River Park, or the Nature Conservancy's Derr Prairie. But for the adventurous there are bonus points for watching a sunset over the Platte River. With a bit of luck, you may even see a summer thunderstorm bubbling out flashes of lightning off in the distance.