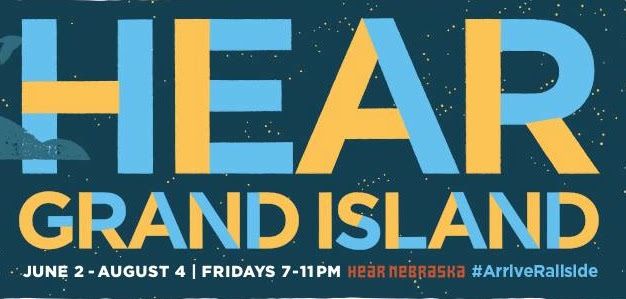 GRAND ISLAND, Neb. — This summer, make Grand Island your Friday evening live music destination.
Hear Nebraska and Knife & Fork Productions are pleased to announce the performance lineup for the 2017 Hear Grand Island concert series, happening every Friday evening this summer from June 2-Aug. 4 at Railside Plaza, 224 W 3rd St.
Launched in 2016 and created in the model of Hear Lincoln and Hear Omaha, the 10-week downtown Grand Island series features free, all-ages concerts showcasing some of the best Nebraska talent in a range of genres. Last year's concerts each attracted an average of more than 500 music fans.
More than 30 musical acts from Omaha, Lincoln, Grand Island and surrounding areas will perform at this year's Hear Grand Island. Headliners include the likes of Freakabout, Mitch Gettman, Laughing Falcon and Clarence Tilton. Additionally, nine acts feature at least one Grand Island-native musician. The events start at 6 p.m. with vendors and beer. Music starts at 7 p.m.
View the full schedule below:
June 2
Whiskey Bent*
The Natural States
The Whiskey Drinkers Union
June 9
Unforesaken Allies*
Minor Movements*
Baker Explosion
June 16
The Bishops
Jump The Tiger
The Shineys
June 23
Clarence Tilton
Domestic Blend
Dazzle Ships
June 30
Belles & Whistles*
Bed Rest
Bell Mine
July 7
Laughing Falcon
The CJ Clydesdale Band
Upset
July 14
Mitch Gettman
Hall County Incident
The Cosmic Smiths
July 21
The Hangin' Cowboys
Briner*
Ojai
July 28
FREAKABOUT*
The Hottman Sisters
The Regulation
Aug 4
The James Lee Band
Cruz Control*
Skyloft*
*act features Grand Island native
Hear Grand Island is made possible by the following sponsors: Bosselman, Chesterman Co. Coca Cola, the Chocolate Bar, CMBA Architects, Eagle Distributing, Fonner Park, the Glass Bar, the City of Grand Island, the Grand Theatre, the Independent, J. Alfred Prufrocks, Jerry's Sheet Metal, Laura Elizabeth Photography, Mary Lanning Healthcare, Middleton Electric, Principal Financial, Railside, Ryder Rosacker McCue & Huston Insurance, T-Shirt Engineers, Sin City, Wave Pizza Co. Grand Island, Wave Pizza Co. Hastings