Platte River Reunion
by Brad Mellema
I've always thought of the Platte River in March as a place of homecoming. The sights, smells, but mostly the sounds resonate and pull me back each year. The annual migration of the sandhill cranes ­— along with millions of other migratory birds — is actually a family reunion in that the migration route is a learned behavior that parents share with their colts. Ecological studies have shown that crane roosts on the Platte's sandbars are in fact multigenerational gatherings.
Birds are not the only ones who gather around the Platte this time of year. Many people have made it an annual priority to find their way to Nebraska and surround themselves with the migration. From that, friendships have been made.
Dr. Jane Goodall stands on the world stage tirelessly traveling and advocating for conservation efforts. Starting in the early 1960s, Goodall lived with Tanzanian chimps to observe their behavior and undertook a groundbreaking scientific study of primates. She discovered previously unknown chimp behaviors including the use of tools. Her work has had a profound impact, initially focusing on the chimps themselves and then quickly broadening out to the surrounding human populations, recognizing that if people can prosper without the degradation of the habitat it is a win-win situation.
If Thomas Mangelsen's name is not familiar to you, his award-winning photography may be. His image titled Catch of the Day is perhaps one of his most famous photographs, a river scene showing a sockeye salmon jumping straight into the hungry jaws of an Alaskan brown bear. A Nebraska native, Mangelsen was heavily influenced by frequent trips to the Platte near Wood River, Nebraska, where his family has a cabin. The family would spend time in the duck blind observing flocks of geese, ducks, and cranes migrating through the area. It was here that Mangelsen's love of nature and the outdoors was formed.
Perhaps it was only a matter of time, but Goodall crossed paths with Mangelsen some 15 years ago while she was speaking near his home in Jackson Hole, Wyoming. Goodall had recently read about the North American sandhill crane migration and she asked him if he knew anything about it. He said not only did he know about it, but he has a cabin in Nebraska with a front row seat to the migration. Mangelsen asked her what she was doing next March, and she said she was going to see the cranes with him!
Their now annual crane-viewing trip has turned into a reunion of friends, relaxation, and recharging. Goodall is not a person who relaxes in the traditional sense ­— always busy, always thinking and doing — but Nebraska is a respite from her regular grind of engagements that constitute her daily life. Mangelsen's cabin is frozen in time in a way, with a mix of decor that includes hip waders, comfortable recliners and sofas, and a stone-hearth fireplace all framing a window to the Platte. These along with a friendly Labrador retriever and roaring fire come together to provide a wonderful place to catch up with each other's work, to support each other as only close friends can.
Goodall has told me that there are a lot of similarities between Nebraska and Tanzania when it comes to wildlife. 
Goodall has told me that there are a lot of similarities between Nebraska and Tanzania when it comes to wildlife. Both have the same pressures as they bump up against the developed world, but ever the optimist she explains that it's not too late to see positive improvements to our habitat and resources. To that end, Jane has established the Roots & Shoots youth education program. Founded in 1991, Roots & Shoots is the Jane Goodall Institute's global, youth-led community action and education program. It has over 150,000 members in 130 countries around the world, including right here in Grand Island. With the help of the Whooping Crane Trust, local teachers Ken and Jan Tell lead the Roots & Shoots chapter, which has been recognized as the most active chapter in the world to date.
There is comfort to be found at migration time. Those who live in and around Grand Island certainly are aware of the cranes whose trumpeting calls punctuate the sounds of daily life as they fly to and from the river to find their daily forage. This great migration just happens to be easy to travel to and easy to witness. Goodall has hosted many guests in local Crane Trust blinds on the river, but she has told me that she prefers the wide open fields where the sound of their calls envelop you. It is enough until next year, when she and Mangelsen will return and recharge. 
Related Links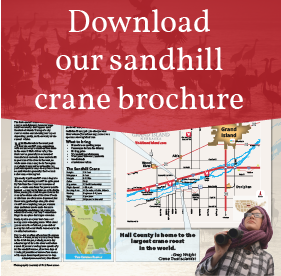 ---
Crane Viewing Blind Tours
Guided viewing blind tours are designed to get you as close to the cranes as possible without disturbing them. Following a brief orientation at the nature center, you'll head to the blinds or footbridge to observe the cranes for approximately two hours.
The viewing blinds are enclosed, unheated structures along the main channel of the Platte River. After driving your own vehicles to a staging area, a short hike (1/2 mile or less) over moderatly rough terrain will take you to the viewing blinds.
Participants come and go as a group so as to minimize disturbance.
Blind tours are offered to people age 12 and up, both morning and evening, corresponding to when the birds leave and enter the river. Footbridge tours overlook a smaller channel of the Platte River about a 1/3 mile from the nature center. These handicapped-accessible tours are offered weekend evenings only.